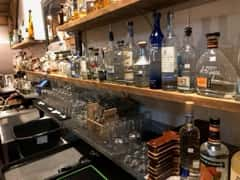 Drink Menu
Cervezas/Beer
DRAFT
Michelob Ultra, ABV 4.2%, $4
"Containing only 95 calories and 2.6 carbs, Michelob ULTRA is a light lager brewed with the perfect balance of Herkules hops and wholesome grains, producing a light citrus aroma and a crisp, refreshing finish."
Dos Equis Ambar, ABV 4.7%, $4
"AWith its signature amber color and subtle hints of roasted malts it pairs great with every kind of Mexican food, whether it's 2pm tacos or 2am tacos. A distinctively rich amber color with subtle hints of caramel and burnt sugar. Full-bodied yet surprisingly smooth and easy to drink with a clean finish."
Modelo Especial, ABV 4%, $5
"Well balanced taste and light hop in character, with a crisp clean finish. Modelo Especial is characterized by an orange blossom honey aroma with a hint of herb. Modelo Especial contains Water, Barley Malt, Non-malted Cereals and Hops." - ABV $4.4 - IBU 18
Draft Cider, $5
Bold Rock Cidery, Blue Ridge Mountains VA
"Smooth and mellow, our expert cider makers craft a broad blend of red apples to create this distinctive hard cider. A balance of fruit-forward taste and tannins give it a rich complexity. Note the clarity and deep golden color." - ABV %4.7
El Guapo Agave IPA, $6
O'Conners Brewing Company, Norfolk VA
"El Guapo — which, translated, means "the handsome one" — looks sexy, smells beautiful, and tastes great! It is a medium-bodied, agave-infused India Pale Ale, with a grassy, citrus nose and notes of sweet caramel, that finishes with a smooth but strong bitterness." - ABV %7.5 - IBU 70
Firefly Nights Summertime Honeycrisp Ale, $6
Three Notch'd Brewing Company, Charlottesville VA
"Designed by our Brewmaster, Dave Warwick, while reflecting on the many summer evenings of his childhood full of firefly chasing and honeysuckle hunting, this light ale captures that inner childhood in us all with a touch of sweet honeysuckle in the aroma and in the finish." - ABC %5.2 - IBU 15
Bottled/Can
Blood Orange Gose 12oz Can, Three Notch'd Brewing, ABV 5.1%, $4.5
Blackberry Gose 12oz Can, Three Notch'd Brewing ABV %5, $4.5
Skyline Falls IPA 12oz Can, Brothers Craft Brewing - ABV %6.5, $4.5
Vienna Lager, Devils Backbone - ABV 5.2%, $4.5
Orange Smash, Devils Backbone 7.5% ABV, - 5.5
Coors Light, 4.2%, - 3.50
Bud Light bottle, 4.2%, - 3.50
Corona Light Bottle, 4% ABV, - 4
Corona Extra Bottle - ABV %4.5 - IBU 18 - $4
Corona Premier Bottle ABV %4 - IBU 7 - $4
Corona Familiar Bottle - ABV %4.8 - $4
Bold Rock IPA Apple - ABV 4.7% - $4
Budweiser - ABV 5% - 3.5
Victoria - ABV 4%, - 3.5
Presidente - ABV %5, - 4
Dos Equis Especial Lager - 4.2% ABV, - 4
Pacifico - ABV 4.4% - 4
Modelo Especial - ABV 4.4% - 4
Modelo Negra, 5.3% ABV, - 4


Michelada
Beer, Spicy V8, hot sauce - 8